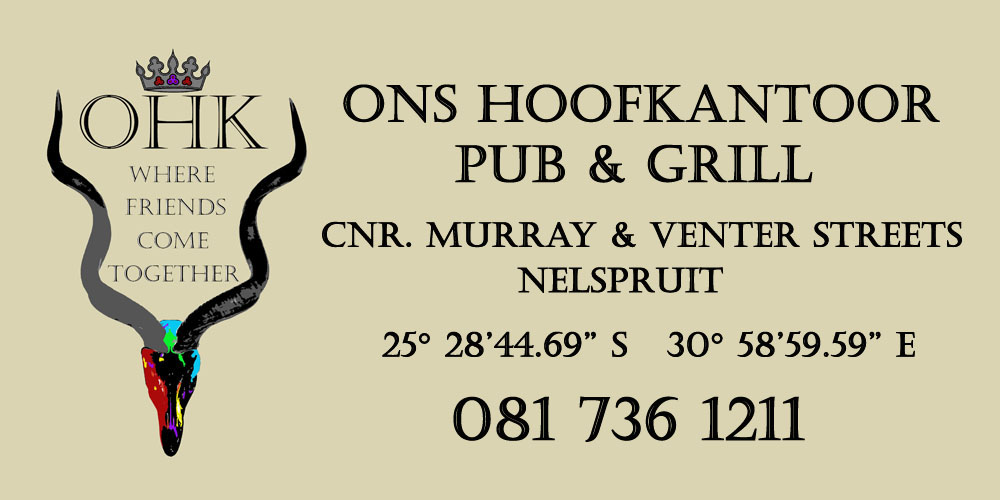 ONS HOOFKANTOOR is centrally siuated in a quiet area with very little traffic. We are open from Mondays to Fridays from 11h00 till late, and on Saturdays from 10h00 till late. Closed on Sundays, Easter Friday, Christmas and boxing days and New Year's day.
Our well equipped kitchen is open from 11h00 daily and we serve the typical pub meals, ranging from a simple plateof chips to the best steak, egg & chips in town. Karla is always involved in the kitchen to make sure orders are well prepared and go out timeously. We only use the best meat and our veggies and salads are always fresh. And you would be delighted with our prices - all meals are very competitively priced.
The bar is well equipped and our beers are always cold. We serve a wide variety of beers, spirits and shooters as well as house wines. We pride ourselves in getting to KNOW our customers and our bartenders knows every customer's preferences and when a customers enters our doors, his or her drink would already be poured and waiting. That personal touch makes the difference!
The bar erea is tastefully decorated with old Brittish war ship flags, black & white framed prints and it even boasts a Russian wall with prints of Communist leaders, framed by authentic Russian military berets, hats and navy hats.
In addition, we have a huge flat screen TV for the rugby and sports fans. For the music lovers, we have a very potent surround sound system and we play all types of music - from the 60 's to current hits, supported by videos of live performances when patrons feel like something different. In addition, we host our very popular Karaoke evenings on Fridays the middle and the end of each month. Live music is presented from time to time, and we simply love our theme evenings, and attending our fancy dress parties is a must. We also have a dart board in the bar area for those who like to challenge each other.
The bar counter area seats 24 people, and an additional two tables in the bar area seats another 10 people. We have a huge stoep area outside with 6 patio benches under roof, which can seat 36 people.
Last, but not least, you would always find our establishment neat, clean and tidy. Our glasses are always sparkling clean and we are frequently complimented on the cleanliness of our place, including the toilet areas.
So if you are really looking for a place to come and relax, have good company and a cold drink in a safe environment, come to
ONS HOOFKANTOOR!